If you are lacking in storage space, building regulations, or venue size, then we can help. We are a leading portable seating company based in the UK and work with clients nationwide.
Our retractable seating systems in Epsom can accommodate large groups of people and are the perfect addition to all venues.
Instead of paying for many chairs or reducing your audience to accommodate the venue, you can ensure everyone has the best seat in the house with our retractable seating.
Please fill out the enquiry form below to learn more about our offer in Epsom.
Why Use Us?
We are the UK's leading portable staging experts with over 20 years of experience. Our portable tiered seating is simple, safe, and compact, making it ideal for all venues in Surrey.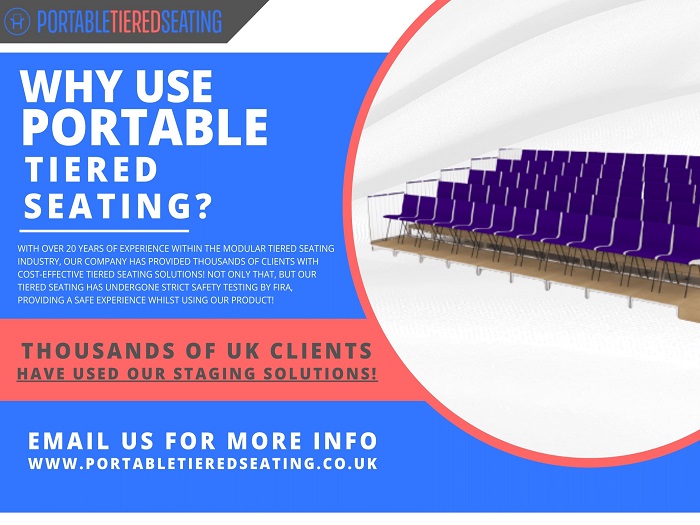 Our seating suits all needs and flooring, including flat, stepped or raked floors, and any capacity. We have manufactured a unique tiered seating system incorporating a sound absorption solution (SAS).
Our chairs have undergone strict testing by FIRA and are certified to BS EN 6399-1:1996 and BS EN 15372:2008 level 2.
Member of Made in Britain Scheme:

Tiered Seating Costs
The average cost of tiered seating in Epsom is between £2,000 to £10,000.
The price can vary based on multiple factors, such as:
The material – What is used to make the seating can affect the price. For example, wooden seats tend to be cheaper than metal seats.
The size of the stand – The more seats within a stand, the higher the price, which will vary based on your venue needs.
The number of tiers – We offer tiered seating in options of 2, 3, 4, or 5 tiers. The more tiers you choose, the more seats you need, affecting the price.
The type of seating – We offer several types of tiered seating, each with its price range. For example, stackable grandstand seating will be more expensive than a smaller, portable seating stand. The seating is suitable for indoor or outdoor use can also contribute to the price.
Whether it is fixed or portable – Similar to the type of seats, the option of portable and fixed seating can cause the seating to be more expensive.
For sale or hire – Tiered seating hire is generally cheaper than buying, which is something to consider when deciding what to do with us. There are benefits to buying and hiring seating based on your long-term needs, so consider this carefully.
If you would like to receive an accurate quotation from our team of experts regarding your bespoke tiered seating stands in Surrey, please complete our contact form today.
Where Are Retractable Chairs Used/Installed?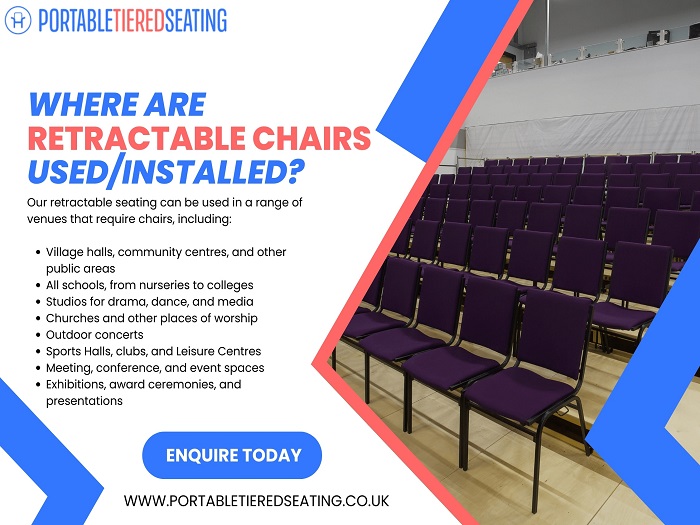 Our retractable seating can be used in a range of venues that require chairs in Epsom, including:
Village halls, community centres, and other public areas
All schools, from nurseries to colleges
Studios for dance and media
Theater and opera areas
Churches and other places of worship
Outdoor concerts
Sports Halls, clubs, and Leisure Centres
Meeting, conference, and event spaces
Exhibitions, award ceremonies, and presentations
Our seating can be used to suit any event, audience, and location, including both indoor and outdoor.
Tiered Seating for Schools
One of the most popular venues we serve is schools in Epsom.
Our seating can be used to accommodate an audience at an event in theatres, such as school performance, or for student use for a range of purposes.
From sports events where you can watch your school team to shows at the school theatre, our seating is used in schools across the country. We have a range of seating available for any audience and options for creating your own.
Tiered Seating for Churches
Rows of seats like in a theatre are also useful for churches, as it accommodates a large audience.
Whether creating a theatre setting for performances, hosting a sermon, or offering seminars, our retractable seating can be very useful. They can be used for indoor and outdoor events in Epsom.
Tiered Seating for Sale
We have a range of retractable seating options available for sale at a low price.
We can create a chair system tailored to your needs and aim to offer the best prices every time.
Rather than watching events in a mezzanine, box, gallery, loge or balcony, tiered seating allows everyone to easily see the show, no matter how far back they are sitting.
Tiered Seating for Rent
You can also hire from us if you are looking for chairs to be used temporarily, such as during a theatre run or sports events. We have retractable chair options for hire for flexible rental periods and low prices.
These are previously manufactured products available for hire at an affordable price in Epsom.
Advantages of Our Tiered Seating Systems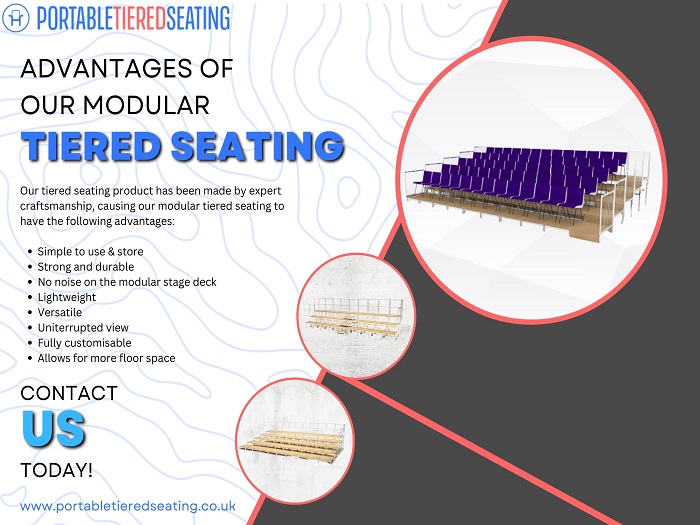 There are many benefits to our retractable seating systems Epsom, including the following:
Simple to Use and Store
Our auditorium seating is easy to assemble and will compactly store on a transportable storage shuttle, which is slim enough to fit through a standard doorway.
We have three main tiered seating options:
Tiered Seating Plus Module
The most popular choice for events that need high stability per square metre seating space.
Tiered Seating Lite
These are lightweight tiered seating solutions that are ideal for small spaces. They are also mobile.
Tiered Seating Pro
This kind of seating offers extra strength and durability, making it ideal for venues that require extra load-bearing capacity for large audiences.
Strong and Durable
Our Tiered Seating Structures are constructed from strong, robust steel frames and high-quality birch plywood decks.
A standard frame and deck can support loads of 10 fully grown men, making them suitable for various needs.
No Noise on the Modular Stage Deck
Our portable auditorium seating is the most silent available, making it ideal for use in the theatre as no additional sound is created.
Lightweight
Our unique design allows it to be both lightweight and sturdy.
Versatile
The versatility of our portable grandstand seating means that you can transform and change your seats to create a simple podium to a single-level stage or even a multi-level, tiered arrangement.
Essentially, you can have a tailored stage system in Epsom for every need with one kit from us, making it cost-effective.
Uninterrupted View
Having tiered seating gives the audience members an uninterrupted view of performances, giving them a better experience.
Fully Customisable
We offer customisable seating that can be made to suit your bespoke requirements, whether this is for the number of seats, the layout, and the type of seating.
With our service, you can design your ideal seating structure for your specific venue, from theatres and sports clubs to outdoors.
Allows for More Floor Space
Tiered seating allows more people to fit in the area while also taking up less of the floor, such as in a theatre or sports venue.
Our team aims to provide the best auditorium seating service in Epsom, so we are happy to speak to our clients regarding the requirements for their venue and what will suit them best.
If you want to discuss the chairs in more detail, please contact us today. Stay in touch, and sign up for our newsletter for more.
Customer Service
We offer excellent service for every customer.
Our team offers a great service along with our grandstand seating and range of other products, ensuring that all customers know how to use our portable seating systems and will maintain high safety standards during set up and disassembly.
If you have any issues with your tiered seating structures, please contact our team; we are happy to help with anything. Keep in touch, and sign up using your email.
Care & Maintenance Recommendations
After each use, the seating should be thoroughly washed and cleaned with a damp cloth and mild soapy water. Please note that bleach should not be used on the benches.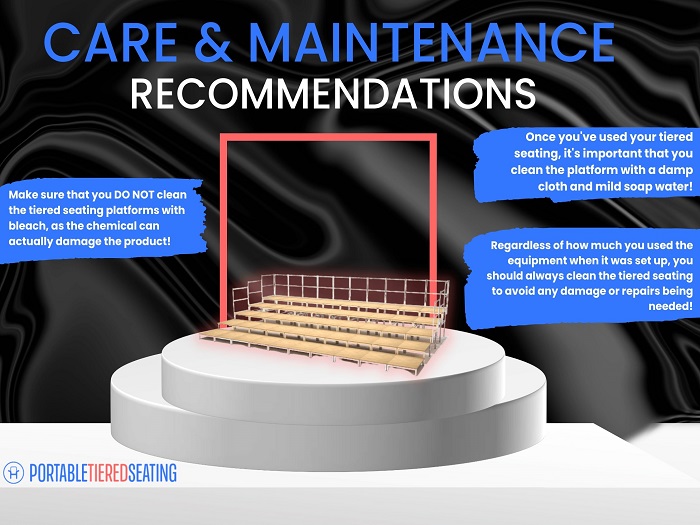 Allow the seating to dry completely before storing.
How Can I Store My Tiered Seating?
Our tiered seat sets come with spiral stack shuttles, which can hold up to 24 decks and frames.
Spiral Storage
With a diameter of 1.07m and a height of up to 2.20m, spiral storage shuttles are ideal for most storage solutions.
In-line Storage
If you need to transport your staging through narrow areas, you might consider an inline storage shuttle with a width of only 0.90m.
Tiered Seating Design
Most manufacturers of modular staging in the UK have holes or bungs in the decks, for example, at theatres.
Our unique location mechanism ensures the staging looks better in all settings and also contributes to the effectiveness of our unrivalled safety features.
Modular Staging Accessories
As part of our modular seating installation in Epsom, we offer a range of accessories, including the following:
Guardrails
Valances
Risers
Facias
Storage drawers
Chair stops
Access ramps
Lecterns
Get in touch today to receive a copy of our latest brochure.
Here you can learn more about how you can create your bespoke performance platform for your venue.
Frequently Asked Questions
Are Grandstand and Bleachers the Same?
Whilst very similar, a grandstand refers to tiered seat areas within a sports stadium or arena, whereas bleachers would refer to outdoor tiered benches.
What is the Purpose of a Grandstand?
A grandstand allows large groups of people to be seated with an unobstructed view, such as at the theatre.
What is Spectator Seating?
Spectator seating is tiered rows of seats found in the theatre, whether in public venues, arenas, stadiums, or schools, to allow spectators to view an event easily.
How Much Weight Can Your Tiered Seating Handle?
A single Frame (540mm height) is tested up to 675kg.
What is the Estimated Delivery Time?
Standard items can usually be delivered in 3-4 weeks, whereas bespoke items can usually be dispatched in 8 weeks following your order.
Do You Ship Internationally?
We can ship our products to most locations worldwide and around the UK.
Please get in touch today for more information.
Can Tiered Seating be Installed in the Garden?
Yes, we can instal tiered seating onto your lawn or parterre; we will ensure it is stable and will talk you through the maintenance required for outdoor use.
Many sporting events are held outside, so all of your seating can be transferred outside with ease.
Get in Touch
If you are interested in our work, please contact the team today to learn more and see how we can help.
Find More Info
Contact us today for some great portable tiered seating services in Epsom.
What Others Say About Our Services
We absolutely love the service provided. Their approach is really friendly but professional. We went out to five different companies and found Portable Tiered Seating to be value for money and their service was by far the best. Thank you for your really awesome work, we will definitely be returning!
Jenson Brown
Surrey
We have used Portable Tiered Seating for many years as they are certainly the best in the UK. The attention to detail and professional setup is what makes this company our go-to company for all our work. I highly recommend the team for the immense work - we highly recommend them!
Ben Reid
Surrey
For more information on portable tiered seating, fill in the contact form below to receive a free quote today.